To mark the 90th birthday of Emil Cimiotti, the Sprengel Museum Hannover is presenting a selection of his artworks from the past two years from 19 August and 19 November 2017. A total of 15 large-format paper reliefs are being juxtaposed with two bronze sculptures.
Emil Cimiotti (born 19 August 1927) is known in Hannover and its environs especially for his fountains. A participant at the Venice Biennale and documenta exhibitions, he has gained a firm place in the history of art as a sculptor. Shortly before his 85th birthday, Cimiotti began working on a new and very different group of sculptures for which he experimented with a new method, namely folding paper. He did not, as is customary, comprehend the material of his paper reliefs as a surface and support for colour, line or drawing but rather as a sculptural material with which volume and space are not generated illusionistically but in a pure three-dimensional sense.
The folded and crumpled sheets of paper seem like the perfect synthesis of his life's work to the extent that they combine the sculptural qualities of his bronzes with the potentials of paper as the support for linear compositions and colour. They lead us to forget the weightiness of metalworking and create filigree lightness.
The exhibition at the Sprengel Museum Hannover juxtaposes Cimiotti's most recent paper reliefs with two bronzes from the early 1990s, making the sculptural context comprehensible: pyramids and Confinboden/foot. The two works demonstrate the artist's relationship to nature on the one hand as well as his sculptural design principles on the other.
Emil Cimiotti was born on 19 August 1927 in Göttingen. After apprenticing as a stonemason, he studied in Stuttgart, Berlin and Paris from 1949 to 1954. Invited multiple times to exhibit at the Venice Biennale and the Kassel documenta, he was also named one of the founding professors of the Staatliche Hochschule für Bildende Künste in Braunschweig in 1963. Emil Cimiotti's works are represented in renowned museum collections and have been shown in numerous solo and group exhibitions.
The following solo exhibitions are honouring Cimiotti's life and work on the occasion of his 90th birthday:
Galerie Ohse, Bremen: 1 July – 5 August 2017

Kunstverein Göttingen: 6 August – 3 September 2017

Sprengel Museum Hannover: 18 August – 19 November 2017

Hachmeister Galerie, Münster: mid October to mid December 2017

Galerie Michael Haas, Berlin: November 2017

Georg Kolbe Museum, Berlin: 19 November 2017 – 14 January 2018

section station Edwin Scharff Museum, Neu-Ulm: 23 February – 21 May 2018
The catalogue
Emil Cimiotti. Zum 90.
featuring texts by Christa Lichenstern and Reinhard Spieler as well as the most comprehensive collection of statements and notes by the artist will be published on the occasion of the exhibition.
The exhibition has been made possible thanks to the generous support of the Staatskanzlei of the state of Lower Saxony, the city of Wolfenbüttel, the Niedersächsische Sparkassenstiftung and the Sparkasse Hannover.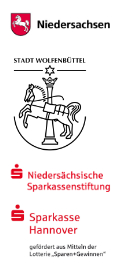 More articles: